As of version 4.0.0 of the apps, it is possible to use a module for groups. This module offers some new functionality related to groups. This will allow you to communicate with other members within a group, and you can manage your own groups from within the app.
Interaction between group members
Until recently, groups were primarily used by the administrator of a community. By placing members in a group you could give them access to a particular module, for example. Groups were also used to let other members know who is on the board, for example.

As of version 4.0.0, it will also be possible for group members to share messages, photos, videos and documents with each other. These are the same opportunities we already offer through the "Share your moment" module. We heard from our users that sharing posts with the entire community was still a step. It was also possible to share information that was not of interest to the entire community. By having the ability to share this only within the group for which it is intended, people are more likely to do so. Consider sharing a soccer team's game schedule or the photos of an outing with the committee.

Group shared messages can be read within a group, as well as in the new module. In fact, the first screen of the module consists of a timeline containing all the posts from the groups you are a member of (see image below). Through this screen, members can also go directly to their last used groups, discover groups and create a group. There is more about creating groups in the next section.

In the future, we want to make it possible for members to do much more with groups. Examples include creating events and asking a question via a poll.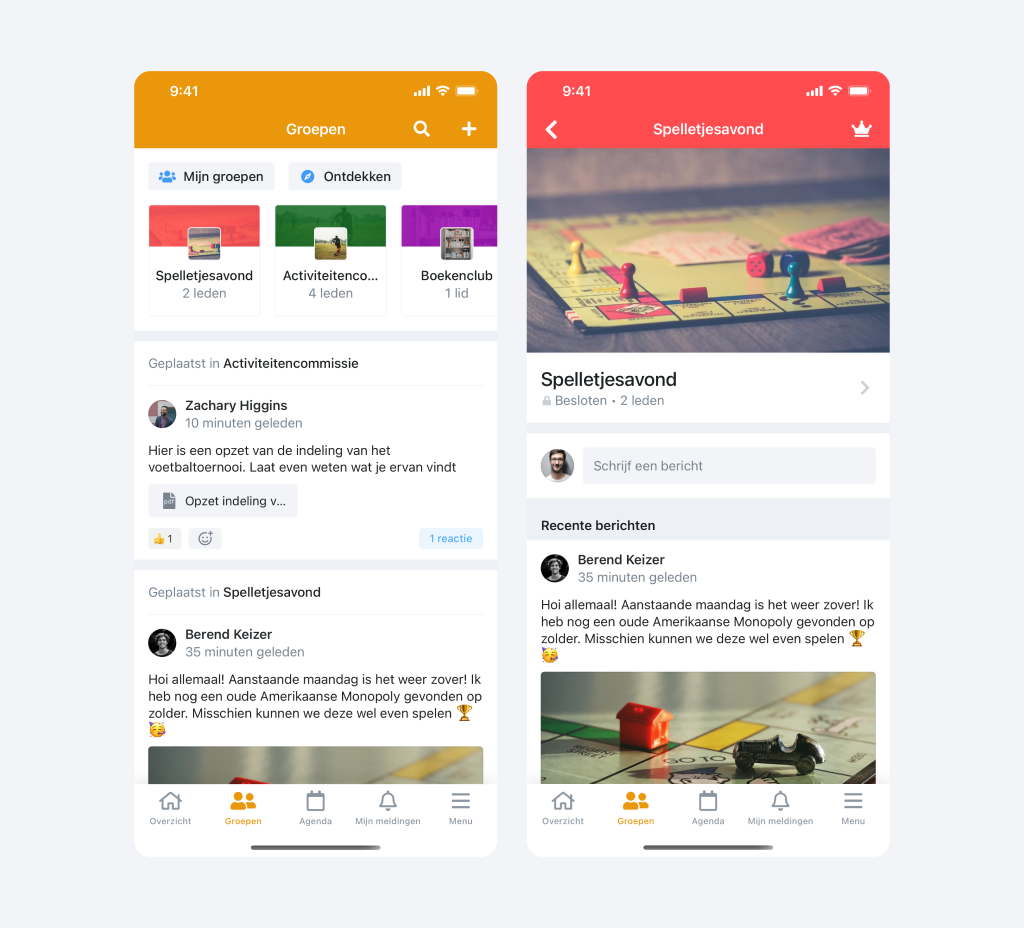 Creating and managing groups
In the new groups module, it is also possible to create new groups from within the app. The community administrator can set who is allowed to do this. When creating a group, the user is asked to set a group name, accessibility and group color. Group access can be public or private. In public groups, all members of the community are free to join. For private groups, this can only be done after an invitation or approved request. With closed groups, it is also possible to set visibility. It can be set to visible and hidden. The process of creating a group is shown in the gif.

After a member creates a group, he also becomes an administrator of that group. The administrator of a community can also assign an administrator to existing groups.
The group administrator can do the following:
invite and remove members
Create group members as administrators and delete as administrators
accept and delete membership requests
change the name and description of the group
choose another group color
change the group image
customize access and visibility
The community administrator can also change group settings at any time. He can also read all messages within the group and delete them if necessary